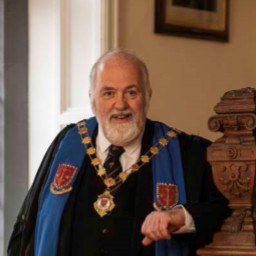 Here's a press release from the recent election of our Douglas Thomson as President to the SSSC, and congratulations Douglas!
At its statutory meeting on 10th July the Society of Solicitors in the Supreme Courts of Scotland welcomed its new President.
Douglas Thomson, a 59 year old solicitor advocate with McArthur Stanton in Dumbarton and member of the Law Society's Criminal Law Committee is only the second President in the Society's 234 year history not to have a principal place of business in Edinburgh. He intends to use his time in office to raise the profile of the Society, both in the court system and through developing and boosting its online presence. Sarah Eskine, formerly a partner with MHD Law LLP in Leith has been appointed as Vice-President.

"SSCs have been part of the framework of the College of Justice since the 18th century; we were one of the ancient societies that ensured that the highest standards would be displayed by those practising before the courts. That is no reason for us not to embrace the new age of social media. We remain a voluntary body, and during my term of office it is my hope that we will continue to contribute to vigorous debate.

In recent years we have made major contributions to the debate on the future of Legal Aid in Scotland. Jackie McRae, one of our Council Members with particular expertise in family law, was a legal member of the expert panel that published the Independent Strategic Review into Legal Aid. Members have contributed at a recent conference on the sentencing of sexual offenders, and I was recently invited to give evidence before the Scottish Parliament on the Management of Offenders (Scotland) Bill.

We have recently taken steps to have our Wikipedia page expanded with details of eminent members past and present, are relaunching our website in the next seven days (full details will be issued shortly), and I intend to make this along with our Twitter page (https://twitter.com/PresidentSsc ) key to the future of the society. During the Presidency the Society will publish regular online updates about its work on matters of interest to the profession and on other legal issues that may arise. It is my intention that this will be a forum for vigorous debate. The Society has long been a campaigning organisation and at a time when the legal profession is assailed from many sides I suggest we need as many independent voices demonstrating the value we as lawyers provide to society."