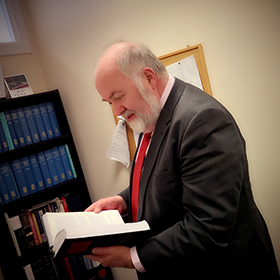 Douglas J C Thomson
Consultant
Contact details:
Tel
01389 762266
Email
This email address is being protected from spambots. You need JavaScript enabled to view it.
Practice areas:
Solicitor Advocate (Criminal);
principal interests jury trials
appeals
sentencing issues
fatal accident inquiries
prisons and parole
life prisoner/extended sentence prisoner tribunals
oral hearings
After almost twenty years experiencing the delights of practising law in Fife, Douglas moved to the west in 2004 to take principal responsibility for criminal court work at all levels from Justice of the Peace to Court of Appeal. As a solicitor-advocate he has rights of audience in the High Court of Justiciary and in the Supreme Court in respect of Scottish criminal cases. He is involved in all aspects of civil and criminal court work, both legally aided and private. He has conducted trials in respect of death by dangerous driving, rape and other sexual offences, drugs offences, fraud, assault and public order offences.
In 2009 he was seconded to act as solicitor-advocate for the Care Commission in the longest FAI in Scottish legal history, held between November 2009 and August 2010, with submissions written in December 2010 and January 2011, with the determination being issued in April 2011.
In the civil courts he has acted as agent in many contested actions, and has conducted proofs and debates in family law and reparation cases.
Having chaired around 500 Tribunals and oral hearings during his period as a member of the Parole Board, Douglas returned to representing prisoners in parole cases after the Rosepark Inquiry concluded, and he has since conducted numerous parole tribunals including several conducted by videolink.
In his capacity as a member of the Law Society of Scotland Criminal Law Committee since 2013 he has written and contributed to a number of papers issued by the Society to the Scottish Government on various current and recent issues including those relating to corroboration, sentencing, imprisonment and prison visiting committees
Among the subjects that interest him outside the office are: genealogy and local history, Test cricket, debunking conspiracy theories, the history and development of Jamaican music, and fruit growing. Douglas lives in the lee of a large hill (which sadly prevents you calling his mobile when he's at home) along with a cat, three fish and an indoor lemon tree, which currently boasts a small but interesting crop.
Memberships
Member of the Law Society of Scotland Criminal Law Committee since 2013
of the Council of the Society of Solicitors in the Supreme Court since 2002
Currently President (since June 2018)
Appointed as Special Counsel in terms of s.150-152 of the Criminal Justice and Licensing (Scotland) Act 2010 October 2011
Legal Experience
Legal member/Tribunal chair (part time) – Parole Board for Scotland 2001-2007
Principal in private practice 1990-2004
Notable Cases
HM Advocate v Robert Weir 2005 SCCR 821 – appeal following plea in bar of trial based upon letter from PF apparently renouncing right to prosecute
Rosepark Care Home Fatal Accident Inquiry – the longest FAI in Scottish legal history, held between November 2009 and August 2010, with the determination being issued in April 2011
Nicola Gallagher v HM Advocate 2010 JC 240 (successful appeal, withdrawal of plea of guilty due to circumstances in which legal advice was given)
Craig Bowness v HM Advocate (2015) – successful appeal against sentence based upon a section 16 order being imposed based upon an erroneous schedule of previous convictions and an error by Scottish Ministers in purportedly revoking a non-existent long-term licence
Prisons, Prisoners and Parole (1st edition, paperback, pub W. Green & Son, May 2007, 2nd edition, paperback, pub W. Green & Son, May 2013)
Stair Memorial Encyclopaedia – Volume 16 – Penal Establishments (published LexisNexis Butterworths January 2010) – Volume 13, Legal Aid (published LexisNexis Butterworths May 2013) Volume 13 Legal Profession (published LexisNexis Butterworths March 2015)
Contributor to Release From Prison; Converging European Practices (ed. Padfield, van Zyl Smit & Dünkel) published Willan Publishing February 2010
Publications & Articles
Various articles and commentaries in "Scots Law Times", "Scottish Criminal Law" and "SCOLAG Legal Journal", including:-
Long Term and Life Sentences: Continuing Differences between Scotland and England, SCOLAG 387 January 2010
Drugs: A User Issue, JLSS November 2010
HMA v M – The First Analysis of Modern Risk Assessment Tools 2010 SLT (N) 153
The punishment part of a discretionary life sentence - a difficulty remains 2011 SLT (N) 105
Surprising trends from the Parole Board's annual report SCOLAG 413 March 2012
The implications of Vinter v United Kingdom: its effect upon life sentence "tariffs" and its implications for the Human Rights Act 2013 SLT (N) 233
Choice of representation in the High Court: where next after Woodside and Addison? 2014 SLT (N) 165